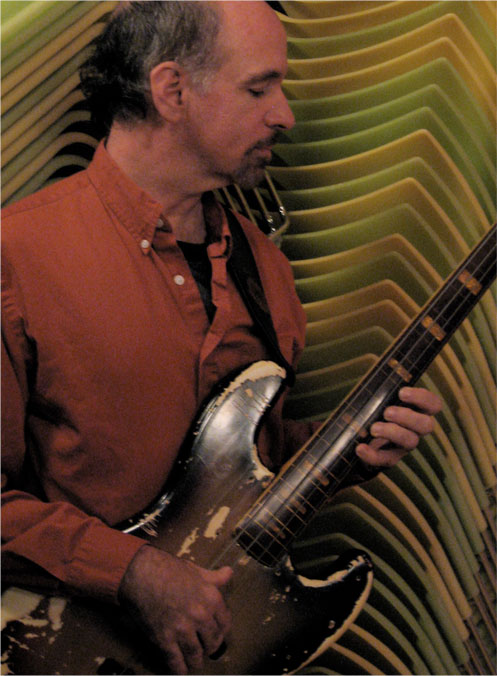 Citing Charles Ives and Captain Beefheart as his most prominent early influences, Jack Vees has a particularly distinctive and personal musical style that is instantly recognizable. His music unselfconsciously combines rigorous formal thinking with the raw energy of rock 'n' roll, as well as an irreverent, acerbic wit that is equal parts Monty Python and the Ugly Janitors of America, the antic avant-garde rock band Vees performed with during his Los Angeles days.
Technology is an integral part of much of Vees's work, and he elegantly combines electronics with acoustic and electric instruments. In 1998, Vees was profiled in Rolling Stone as a pioneer of music technology and hailed as a "21st century alchemist." His music has been described as "consistently interesting" (Music Connection), "looking-glass music" (New Haven Register), and it has occasionally been said here and there that his music "twangs with excitement" (New York Times).
In addition to being a leader in electronic music composition and performance, Vees is also a prominent educator in the field, serving as founder and director of Yale University's acclaimed Center for Studies in Music Technology (CSMT). Since 1986, Vees has taught graduate-level courses on music technology and studio techniques at the Yale School of Music, and has played a critical role in cultivating the extraordinary reputation of today's composition department at YSM.
Vees' early musical training was in piano and tuba, but he soon switched to the electric bass guitar. He attended Glassboro State College and went on to receive his MFA from California Institute of the Arts, where he studied music composition with Morton Subotnick, Stephen Mosko, Louis Andriessen, Vinko Globokar, and Bernard Rands. His works have been performed throughout the world by numerous ensembles and soloists, including Ensemble Modern, the California Ear Unit, Zeitgeist, Hemispheres, oboist Libby Van Cleve, cellists Jeffrey Krieger and Ashley Bathgate, guitarist Ben Verdery, and electronic percussionist Amy Knoles. His music has been heard at New Music America, Neue Musik New York/Cologne, Bang On A Can, and Soundings. In February of 2014, the Yale School of Music presented an evening length concert of his music on its Faculty Artist Series.
Vees' solo bass album The Restaurant Behind the Pier has been lauded at home and abroad as an ambitious and overwhelmingly successful undertaking. "Think you've heard everything that can be done with a bass guitar? Consider Jack Vees' The Restaurant Behind the Pier" (Bassnotes). His mastery of extended techniques on the bass led him to write the Book on Bass Harmonics (Alfred Music Publishers, 1981), which has become a standard reference on the subject.